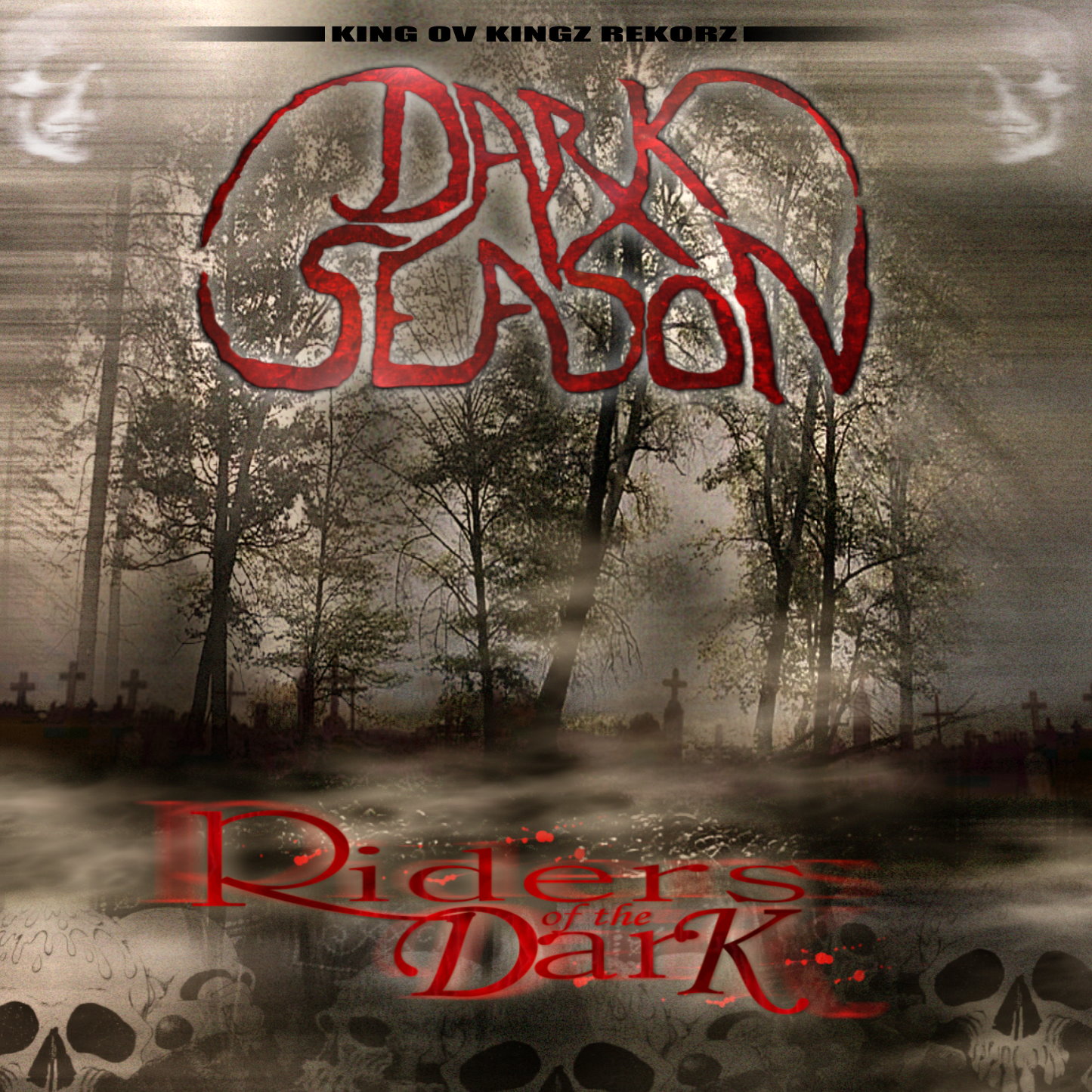 Interpret: Dark Season

Titel: Riders Of The Dark

Erscheinungsjahr: 2005
Label: King Ov Kingz Rekorz / Koka Muzik
Vertrieb: Independent Muzikk

Katalog Nr.: KOKA 007
EAN Code: 4260038520161

Artwork: Dennis "Poltageist" Dittfeld & Sascha "Psycomatic" Hummel für Koka Grafxx
Produzenten: Dark Season & Sascha "Psycomatic" Hummel

Executive Producer: Sascha "Psycomatic" Hummel
Dark Season sind: Christian Eckstein (Gesang), Patrick Schneckenburger (Gitarre), Thomas Wenkert (Gitarre), Thomas Beck (Bass) & Matthias Herp (Drums) 


Offizieller Pressetext
Dark Season…Heavy Metal Album auf Hip Hop Label
Nach dem Album zum 11jährigen Jubiläum, Kokain Dizz Biaaatch von der King Ov Kingz Armee, nun der zweite Streich im feierlichen Jahr, das Debutalbum von Dark Season mit dem Titel Riders Of The Dark.
Die 5köpfige Heavy Metal Band aus dem schönen Ohlsbach, bestehend aus Sänger Christian Eckstein, den Gittaristen Patrick Schneckenburger und Thomas Wenkert, dem Bassisten Thomas Beck und Drummer Matthias Herp sind mit Ihrem Longplayer die erste nicht-Hip Hop Veröffentlichung auf King Ov Kingz Rekorz, dem Label von Sascha "Psycomatic" Hummel.
Riders Of The Dark, mit seinen 10 selbst komponierten und getexteten Songs, besticht vor allem durch straighten Heavy Metal, der sich hauptsächlich im Midtempo abspielt. Eine sehr gelungene Mischung aus Aggressivität und Melodie, machen die Musik sehr abwechslungsreich.
Anspieltipps sind auf alle Fälle das sehr eingängige "Enslaved" sowie das rockig stampfende "New Day In Hell".
Ein weiteres Highlight ist sicherlich auch die ungewöhnliche Nummer "Innalich Vawezt", welche in Zusammenarbeit mit Rapper Psycomatic entstand.
Offizielle Trackliste
INTRO

RIDERS OF THE DARK

MAMMON


MEMORY

NEW DAY IN HELL

KELLERKINDER

THE LAST WAY

TIMEBOMB

ENSLAVED

INNALICH VAWEZT feat. Psycomatic