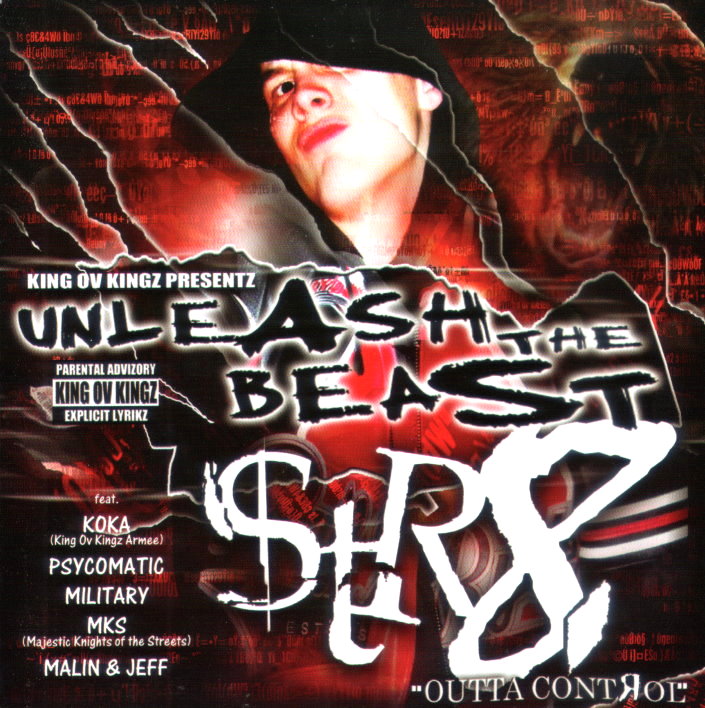 Interpret: $tr8 "Outta Control"

Titel: Unleash The Beast
Erscheinungsjahr: 2006
Label: King Ov Kingz Rekorz / Koka Muzik
Vertrieb: Independent Muzikk

Katalog Nr.: KOKA 008
EAN Code: 4260038520468

Artwork: Military a.k.a. Mike Tenner & Sascha "Psycomatic" Hummel für Koka Grafxx
Produzenten: Nocturne, Lethal, $tr8 "Outta Control", Sascha "Psycomatic" Hummel, Six2Nine, Military a.k.a. Mike Tenner

Executive Producer: Sascha "Psycomatic" Hummel

Offizieller Pressetext
Der norwegische MC $tr8 "Outta Control" aus Nesoddtangen, Akershus zeigt auf seiner neuen Solo-CD der Welt, aus welchem Holz der skandinavische HipHop geschnitzt ist.
Seine Karriere als MC begann er als Teil des Trios Genuine Emcees. Nachher tat er sich mit Arlo zusammen und gründete The 5 Flawless. Auf ihrer Demo-EP "Rough Draft" war $tr8 "Outta Control" zum ersten Mal als Solo-MC zu hören. Zusammen mit Mortal und Krohnik hob $tr8 "Outta Control" danach die Majestic Knights of the Streets (MKS) aus der Taufe. Die "Flawless EP" war das erste Ergebnis ihrer Zusammenarbeit.
Als Solo-Rapper wurde $tr8 "Outta Control" von Untergrund-Legende Psycomatic entdeckt, der sowohl als CEO seiner eigenen Plattenfirma, King Ov Kingz Rekorz, als auch als Produzent und MC fungiert.
Zum ersten mal war er bei King Ov Kingz auf der Jubiläums-Label-Compilation "KOKAin Dizz Biaaatch" zu hören.
"Unleash The Beast" ist ein wahres Feuerwerk von tödlichen Rhymes und dopen Beats, inspiriert von grossen Namen wie Tech N9ne, Bone Thugs N Harmony, Twista, CunninLynguists und 2Pac. Der Einfluss des sogenannten Mittleren Westens ist unüberhörbar; doch auch typische Boom-Bap-Beats sind zu hören, so etwa auf "A Show Filled With Acts", einer Hommage an Marley Marls berühmte "Symphony", oder auf dem Hardcore-Track "Buck! Buck! Blaow!". "Sjuke Karer" (feat. Mortal), eine Ode an die geistigen Getränke, ist teilweise in norwegischer Sprache, während "Top Dawgs" sich durch einen deutlichen Ragga-Einschlag auszeichnet. Andere Highlights sind u.a. "Spit Fire", "The Last Man Standing" (feat. Malin), "No Time To Waste" (feat. Jeff) sowie "Unleash The Beast" (feat. Psycomatic & Military) – Rhymes des Untergangs treffen auf eine wahre Beat-Symphonie.
Die meisten Tracks wurden von Nocturne produziert; für drei Stücke zeichnet Lethal sich verantwortlich; die Bonus Tracks wurden von den KOKA-Beatmakers Six2Nine, Military und natürlich Psycomatic beigesteuert. Als Gast-MCs und Sänger sind auf der CD unter anderem Psycomatic, Military, Malin, Jeff, MKS und Mortal (MKS) zu hören.
Offizielle Trackliste
HEADACHE

FREE YOUR MIND  

AM I EVIL?

LET THE WOLVES OUT

SPIT FIRE

MY LIFE

ONCE IN A LIFETIME

ON MY OWN feat. Malin  
SJUKE KARER feat. Mortal 
TOP DAWGS feat. M.K.S. / Majestic Knights Of The Streets

COMPLICATED 

IN THE PAST

LOSING BATTLES

BUCK! BUCK! BLAOW!

A SHOW FILLED WITH ACTS

A MOMENT OF PEACE

NO TIME TO WASTE feat. Jeff
GAME OVER

WORLD WIDE SOULJAHZ feat. Psycomatic & Military
UNLEASH THE BEAST feat. Military & Psycomatic
END OF DAYS feat. Psycomatic & Military
THE LAST MAN STANDING feat. Malin